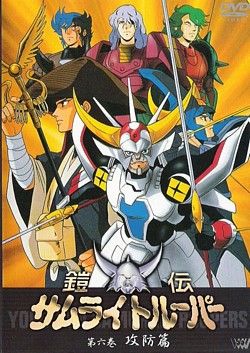 The title of this DVD, Koubou Hen (『攻防篇』), translates to something like "Offense and Defense Chapters". It contains episodes 26-30:
- 26: Kourin Yo, Hikari wo Torimodose (「光輪よ、光をとりもどせ」)
- 27: Ikare Kongou, Suna Youja wo Kudake (「怒れ金剛、砂妖邪をくだけ」)
- 28: Nazo no Onna Youja Kayura Shutsugen (「謎の女妖邪カユラ出現」)
- 29: Yuke! Futari no Senshi Tachi Yo... (「行け!二人の戦士達よ…」)
- 30: Koko wa Youja Kai Ka? (「ここは妖邪界か?」)
Ad blocker interference detected!
Wikia is a free-to-use site that makes money from advertising. We have a modified experience for viewers using ad blockers

Wikia is not accessible if you've made further modifications. Remove the custom ad blocker rule(s) and the page will load as expected.