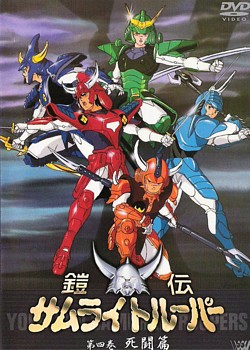 The title of this DVD, Shitou Hen (『死闘篇』), translates to something like "Struggle to the Death Chapters". It contains episodes 16-20:
- 16: Totsunyuu, Arago Jou (「突入、アラゴ城」)
- 17: Akasareta Yoroi Densetsu (「明かされた鎧伝説」)
- 18: Kyoufu no Youja Teiou (「恐怖の妖邪帝王」)
- 19: Kessen! Rekka Tai Arago (「決戦!烈火対アラゴ」)
- 20: Arata Naru Tatakai (「新たなる戦い」)
Ad blocker interference detected!
Wikia is a free-to-use site that makes money from advertising. We have a modified experience for viewers using ad blockers

Wikia is not accessible if you've made further modifications. Remove the custom ad blocker rule(s) and the page will load as expected.