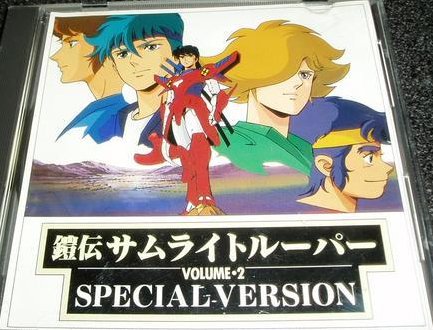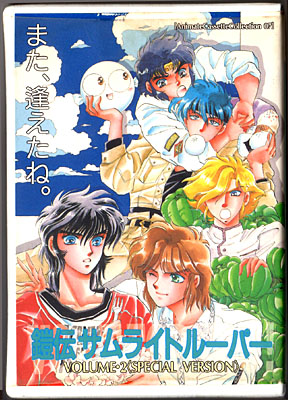 Volume 2 ~Special Version~ is a special CD for the Yoroiden Samurai Troopers anime series. It was released on September 1st, 1992 by Movic in Japan only. Its content was first released as a cassette tape, which was published on September 1st 1989, also by Movic.
Album Info
Edit
This CD was released in a special box set called "Memorial CD Book Set" along with Volumes 1 and 3. Its content consists mainly of gag tracks, with one track that is basically just the voice actors talking (Free Talk). It should be noted that the content of this CD is the exact same as that of the second Cassette Book Collection. The scriptwriters for this volume are the famous mangaka group CLAMP.
Track Listing
Edit
Track
Type
Title
Length
Notes
1
Drama
Supesharu Saabisu Vaajon
(Special Service Version)
??
2
Drama
Hiru Mero Vaajon
(Midday Melodrama Version)
??
3
Drama
Ryou no Choushoku
(Ryou's Breakfast)
??
4
Drama
Sasupensu Vaajon
(Suspense Version)
??
5
Drama
Shin no Chuushoku
(Shin's Lunch)
??
6
Drama
Supokon Vaajon
(Tenacity Version)
??
7
Drama
Seiji no Yuushoku
(Seiji's Dinner)
??
8
Drama
Misuterii Vaajon
(Mystery Version)
??
9
Drama
Shuu no Yashoku
(Shuu's Supper)
??
10
Drama
Furii Tooku
(Free Talk)
??
11
Drama
Suiko no Gomen Kooru
(Torrent's I'm Sorry Call)
??
12
Drama
Kourin no Omedetou Kooru
(Halo's Congratulations Call)
??
See Also
Edit
Ad blocker interference detected!
Wikia is a free-to-use site that makes money from advertising. We have a modified experience for viewers using ad blockers

Wikia is not accessible if you've made further modifications. Remove the custom ad blocker rule(s) and the page will load as expected.